Kale & Cranberry Slaw
INGREDIENTS
8 kale leaves
2 large carrots
½ cup dried cranberries
⅓ cup finely diced red onion
⅓ cup sliced almonds, lightly toasted
Dressing
¼ cup packed brown sugar
3 Tbsp red wine vinegar
1 Tbsp olive oil
⅒ tsp garlic salt
pinch black pepper
1. To prepare salad, cut off and discard ribs and stalks from kale. Roll up green leaves, slice into 1/8-inch threads (4 cups sliced kale).
2. Peel carrots, finely julienne or coarsely grate (4 cups carrot).
3. In large serving bowl, mix together kale, carrot, cranberries, red onion and almonds. Set aside.
Dressing
1. In microwave-safe bowl, mix brown sugar, vinegar, olive oil, garlic salt and black pepper. Heat about 15 seconds in microwave. Stir to dissolve sugar completely. While dressing is lukewarm, drizzle over salad. Toss. Serve immediately.
Meal Prep. Burrito Bowls:
Serves 4–6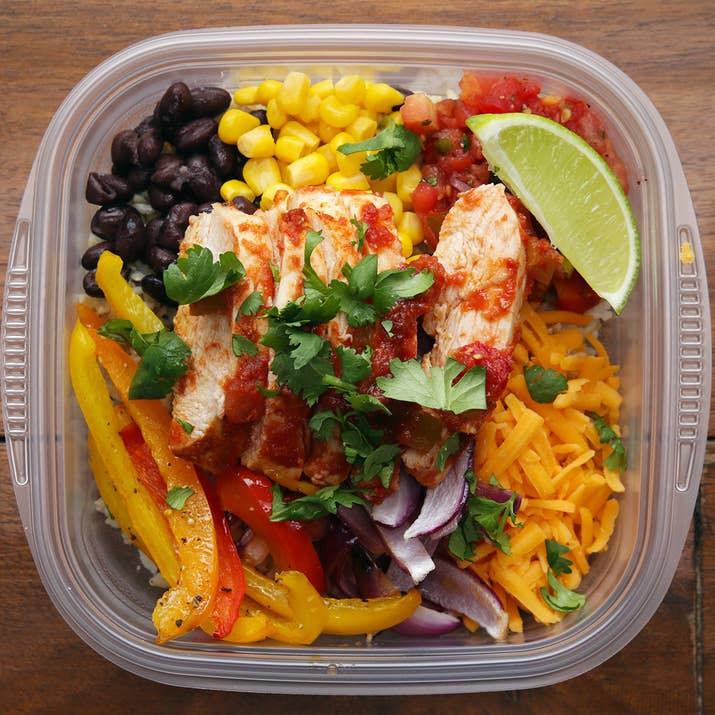 INGREDIENTS
2–3 boneless skinless chicken breasts
3 bell peppers, any color, sliced
1 large red onion, sliced
2 tablespoons olive oil
1 tablespoon taco seasoning* see below
Salt and pepper
1 sm. jar salsa
2-3 cups cooked brown rice, divided  – could be substituted for quinoa
1 can/ cup black beans, drained and rinsed
1 can/1 cup corn
1 cup shredded cheddar cheese (optional)
1 lime, sliced into wedges
Fresh cilantro to garnish
* taco seasoning: 1 Tbsp. Chili Powder, 1/4 tsp. Garlic Powder, 1/4 tsp. Onion Powder, 1/4 tsp. Crushed Red Pepper Flakes, 1/4 tsp. Dried Oregano, 1/2 tsp. Paprika, 1 1/2 tsp. Ground Cumin, 1 tsp. Sea Salt
PREPARATION
1. Preheat oven to 400˚F/200˚C.
2. Line a baking sheet with foil.
3. Place the chicken, peppers, and onions on the baking sheet and drizzle with oil.
4. Sprinkle the taco seasoning evenly over both sides of the chicken breasts.
5. Salt and pepper the peppers and onions, tossing to coat.
6. Top each chicken breast with a generous pour of salsa.
7. Bake in a preheated oven for 25 minutes.
8. Rest chicken for 10 minutes, before slicing into strips.
9. Add a base of brown rice to 4 food storage containers. Top each with a scoop of black beans, corn, additional salsa, cheddar cheese, cooked peppers and onions, and sliced chicken. Garnish with fresh cilantro and a lime wedge.
10. Store in the refrigerator (and enjoy any extras immediately). Can be kept refrigerated for up to 4 days.
Turkey Taco Burrito Bowl
Ingredients
1.25

 

lbs

 

ground turkey

1

 

teaspoon

 

salt

1/4

 

teaspoon

 

pepper

1

 

teaspoon

 

cumin

1/2

 

teaspoon

 

garlic powder

1/2

 

teaspoon

 

chili powder

1/2

 

teaspoon

 

onion powder

1/4

 

teaspoon

 

oregano

1/4

 

teaspoon

 

paprika

1/4

 

cup

 

all-purpose flour

1

 

can (14.5 oz) beef broth

1

 

can (8 oz) tomato sauce

1

 

can (15 oz) black beans

 

drained & rinsed

1

 

cup

 

frozen corn

Cooked rice

Taco toppings; shredded lettuce, pico de gallo, salsa, avocado, olives, lime, shredded cheese, etc
Instructions
In a large nonstick skillet, over medium high heat, cook the ground turkey with the salt & pepper until cooked through and no longer pink, breaking the meat into small pieces as it cooks. Drain.

Add the cumin, garlic powder, chili powder, onion powder, oregano, paprika, and flour. Stir the mixture constantly for 1 minute while it cooks. It will be crumbly (that's ok).

Slowly add the beef broth, a little bit at a time, while whisking to let it thicken up. Add in tomato sauce and stir to combine.

Bring to a boil. Once boiling add the black beans and corn.

Turn heat to medium and let simmer for 15-20 minutes or until thickened.

Serve with rice and taco toppings for delicious burrito bowls.
Recipe Notes
It's easiest if you combine the spices and the flour into a small bowl. That way when you are ready for it you can just dump all at once and then stir. To make this a quick, 30 minute meal. Prepare and chop your toppings while the meat mixture simmers. Put the rice in the rice cooker or on the stove top first thing. You want to make sure you are simmering the meat mixture for at least 15 minutes. It will seem like too much liquid at first but as it simmers on the stove the flavor develops and it will thicken up. I usually end up simmering mine for closer to 20-25 minutes to get the consistency I want.
Grilled Chicken & Quinoa Burrito Bowl

Ingredients
1 1/2

 

cups

 

dry quinoa*

3

 

cups

 

low-sodium chicken broth

1

 

Tbsp

 

ancho chili powder

1 1/2

 

tsp

 

ground cumin

1/4

 

tsp

 

garlic powder

Salt and freshly ground black pepper

1 1/2

 

lbs

 

boneless skinless chicken breasts

1 1/2

 

Tbsp

 

olive oil

1 2/3

 

cups

 

frozen corn

 

, warmed (optional)

1

 

(14.5 oz) can black beans, warmed along with liquid from the can then drained (optional)

Mexican blend cheese or queso fresco

(optional)

Plain Greek yogurt or light sour cream

 

(optional)
Avocado salsa
3

 

medium roma tomatoes

 

, diced

1 1/2

 

medium avocados

 

, diced

1/2

 

cup

 

chopped red onion

 

, rinsed

1

 

jalapeño

 

, seeded for less heat if desired and minced**

1

 

clove

 

garlic

 

, minced

2

 

Tbsp

 

fresh lime juice

2

 

Tbsp

 

olive oil

1/4

 

cup

 

finely chopped cilantro
Directions
In a medium saucepan stir together quinoa and chicken broth. Bring to a boil over medium-high heat then cover, reduce heat to medium-low and allow to simmer for 15 minutes or until broth has been absorbed. Remove from heat and let rest 5 minutes.

Meanwhile, heat a grill to 425 degrees or in the oven at 350 degrees. In a small bowl whisk together ancho chili powder, cumin, garlic powder and 3/4 tsp salt and 1/4 tsp pepper. Pound chicken breasts to even out their thickness using the flat side of meat mallet. Brush both sides with the 1 1/2 tbsp olive oil then season both sides of chicken with the chili powder mixture (use all of it). Grill until the chicken reaches an internal temperature of 165 degrees or cook for 30 minutes in the oven. Transfer chicken to a plate, cover and let rest 5 minutes then cut into pieces.

While the chicken is resting, prepare avocado salsa. In a medium mixing bowl gently toss together tomatoes, avocados, red onion, jalapeno, garlic, lime juice, olive oil, cilantro and season with salt and pepper to taste.

To assemble burrito bowls, divide quinoa among serving bowls. Top with chicken, corn, black beans, cheese, avocado salsa and Greek yogurt. Serve immediately.
Turkey
& Cucumber Lettuce Wrap

Ingredients
1/2 
cucumber, sliced thinly
Directions
Top a lettuce leaf with a slice of turkey, cucumber, hummus and paprika, then, as if it were a tortilla shell, wrap it up with another piece of lettuce.
Repeat with the remaining ingredients.
Grilled Vegetable Quesadilla
Ingredients
4 large multi grain tortillas
2 large zucchinis sliced into 1/4 inch slices
2 large squash sliced into 1/4 inch slices
4 large portobello mushrooms sliced
4 red bell peppers or sweet pointed red peppers
1 large red onion sliced
2 cups fresh mozzarella cheese shredded
8 tbsp pesto
salt and pepper to taste
Directions
Turn your grill on and let it heat up to about 300 to 350 F degrees.

Season the zucchini, squash and mushrooms with salt and pepper.

Grill the vegetables, including the peppers on both sides until grill marks form. Remove from grill and set aside. Make sure you grill the peppers until they're charred.

Let the peppers cool then careful remove the skin and seeds from the peppers then wash them out.

Take a large tortilla and spread 2 tbsp of pesto over the top of the tortilla. Arrange grilled vegetables on half of the tortillas, some zucchini, squash, red onion, mushrooms and peppers. Top with about 1/2 cup of mozzarella cheese, use less if preferred. Flip over the other half of the tortilla to form half a circle and press down. You can use a panini press to grill the quesadilla or use a skillet. If you're using a skillet, spray the bottom of the skillet with cooking spray. Place the quesadilla and grill it on both sides until golden brown, about 3 minutes per side.

Repeat with remaining tortillas and grilled vegetables.

Cut each quesadilla in 4 and serve.
Buffalo Shrimp Salad
Ingredients
1 pound jumbo frozen shrimp peeled and deveined, thawed
1/2 cup buffalo wing sauce
1 teaspoon paprika
1 teaspoon chili powder
4 cups lettuce chopped
1 cups cherry tomatoes halved
1 medium carrot chopped
1 medium cucumber chopped
Directions
Place the shrimp in a strainer with a bowl filled with water inside it.  Soak for 10 minutes with cold water and then dump the water and refill for another 10 minutes.

Heat a medium sized skillet to medium heat.  In a small bowl, mix the thawed shrimp with the chili powder and paprika with the buffalo sauce.

Add the sauced shrimp to the heated skillet and cook for about 10 minutes, turning a few times to make sure it's cooked through.  Add the cooked shrimp to your assembled salad.  Serve immediately with a side of light ranch, if desired.
Roasted Chicken & Veggies

Ingredients
2 medium chicken breasts, boneless skinless cut into ½ inch pieces
1 cup broccoli florets, frozen or fresh
1 small red onion, chopped
1 cup grape or plum tomatoes
1 medium zucchini, chopped
2 cloves garlic minced
1 tablespoon italian seasoning
1 teaspoon salt
½ teaspoon black pepper (optional)
½ teaspoon red pepper flakes (optional)
½ teaspoon paprika
2 tablespoons olive oil
2-4 cups cooked rice of choice (optional)
Instructions
Pre-heat oven to 450F. Line a baking sheet with aluminum foil and set aside.
Chop your chicken and veggies into 1″ cubes.
Place the chicken and veggies in the baking dish. Sprinkle all the spices and garlic evenly over the chicken and veggies. Drizzle with the olive oil.
Bake for 15-20 minutes or until the veggies are charred and chicken is tender.
Place ½ or 1 cup of cooked rice and divide chicken and veggies evenly on top of the rice. Cover and store in the fridge for up to 5 days or freezer up to 2 months.
South Western Chicken Salad

Ingredients:
2 tsp vegetable oil
75g sweetcorn kernels
2 tbsp soured cream
1tsp white wine vinegar
Pinch of castor sugar
2-4 cooked chicken breast, baked & sliced
125g cherry tomatoes, halved
1 can of kidney beans
1 large onion, diced
1 red chilli, deseeded and sliced
Directions:
Heat a small frying pan over a medium heat. Add the vegetable oil, swirl it around the pan, then cook the sweetcorn for 5 minutes or until lightly golden. Set aside.
Mix the soured cream, white wine vinegar and caster sugar, and season to taste.
Slice the chicken and arrange with the tomatoes and beans on 2-4 plates. Scatter the sweetcorn over, then top with the sliced spring onion and chili.
Drizzle with the soured cream dressing and salsa then sprinkle with coriander to finish.
Open Faced Turkey & Avocado Sandwich

Ingredients:
1 slice of whole grain bread
Olive Oil
3 slices of roasted turkey slices
1 avocado, sliced
4 sundried tomatoes, sliced
Handful rocket leaves
2 tsp fresh pesto
Directions:
Brush your bread with the olive oil and grill both sides for 1-2 minutes.
Add a few slices of turkey, sliced tomato, sliced sundried tomatos, a handful of lettuce and drizzle with pesto.
Green Bean Salad

Ingredients:
2 handfuls of fine green beans, trimmed
1 small red onion, sliced thin
¼ cucumber, cut into thin sticks
2 handfuls cherry tomatoes, halved
4 cups of mixed salad leaves
fresh chives
extra virgin olive oil, for drizzling
juice of 1 lemon
sea salt, to season
freshly ground black pepper, to season
Directions:
Cook green beans in boiling water covered for 3 to 4 minutes. Cool beans by running under cold water and drain well.
Place beans in a bowl and combine with all the salad ingredients.
Dress salad with a generous drizzle of extra-virgin olive oil and the lemon juice, add the croutons and chives. Season salad with sea salt and freshly ground pepper, to taste.
Turkey Apple Sausage Patties
Ingredients:
1 lb. ground turkey (may substitute chicken)
½ cup finely minced apples
½ tsp. garlic powder or onion powder
½ tsp. Italian seasoning or sage
½ tsp. paprika
¼ tsp. crushed fennel (optional)
½ tsp. sea salt
¼ tsp. black pepper
1-2 Tbsp. coconut oil or avocado oil
Directions:
Combine turkey (or other ground meat), diced apple, garlic, spices in a mixing bowl, mix thoroughly with a large spoon or your hands.
Using hands, form meat mixture into 12 small patties (Thin is good because they will shrink and fatten up in the pan a bit).
Heat a skillet to over medium heat. When the skillet is hot, add oil/fat (about ½ Tbsp. per batch of patties, depending on the size of your pan).
Add the patties to the pan, being careful not to overcrowd them or it's difficult to flip them and they won't brown as well. Cook for approximately 3-4 minutes per side until browned and no longer pink in the center.
Remove patties to a plate lined with a paper towel and repeat with remaining oil and turkey mixture.
Store in a covered covered in the refrigerator for up to 5 days – may be frozen for longer storage.
To cook from frozen, add to a small pan with few drops of water. Heat over medium-low heat covered with a lid for 5-8 minutes or until heated through.
Mediterranean 3 Bean Quinoa Salad
Ingredients: 
For the Salad:
1 cup quinoa
2 cups water
½ lb. green beans, trimmed and snapped into 2-inch pieces
1 (15 oz) can of garbanzo beans (chickpeas), drained and rinsed
1 (15 oz) white beans, drained and rinsed
1 red bell pepper, seeds removed and chopped
1 yellow bell pepper, seeds removed and chopped
1 cup chopped seedless cucumber
1 cup grape tomatoes, cut in half
1/4 cup diced red onion
1/4 cup crumbled feta cheese
1/3 cup kalamata olives, pitted and sliced in half
1/4 cup chopped fresh basil
For the Dressing:
1/4 cup olive oil
1 tablespoon balsamic vinegar
2 garlic cloves, pressed
1/4 teaspoon dried basil
1/4 teaspoon dried oregano
Kosher salt and freshly ground black pepper
Directions:
In a medium saucepan, bring quinoa and water to a boil. Cover, reduce heat to low, and simmer until for 15 minutes, or until quinoa is tender. Remove from heat and let stand for 5 minutes, covered. Remove lid and fluff with a fork. Transfer quinoa to a large bowl.
Meanwhile, blanch the green beans. Bring a large pot of salted water to a boil. Add the green beans and cook until tender crisp, about 2 minutes. Drain the green beans and place in a bowl of ice water. Drain well and pat dry.
Add the green beans, garbanzo beans, white beans, peppers, cucumbers, tomatoes, red onion, feta cheese, olives, and basil to the bowl with the quinoa.
In a small bowl, whisk together the olive oil, balsamic vinegar, garlic, basil, oregano, salt, and pepper. Pour dressing over the salad and gently stir until salad is coated with dressing. Season with additional salt and pepper. Serve.
Spicy Tuna Wrap
Ingredients
1

4oz can

Solid White Tuna 

1 1/2 – 2

tbsp

 Plain Greek Yogurt

1

tsp

soy sauce

2

tsp

siracha

2

whole grain or whole wheat wraps

2/3

cup

matchstick carrots

1/2

 avocado, sliced

1/2

cucumber, peeled and sliced into long sticks
Instructions
In a small bowl, mix together the tuna, yogurt, soy sauce, and siracha.

Divide the tuna salad between the two wraps.

Divide the vegetables between the two wraps.